Health Programs

Health Programs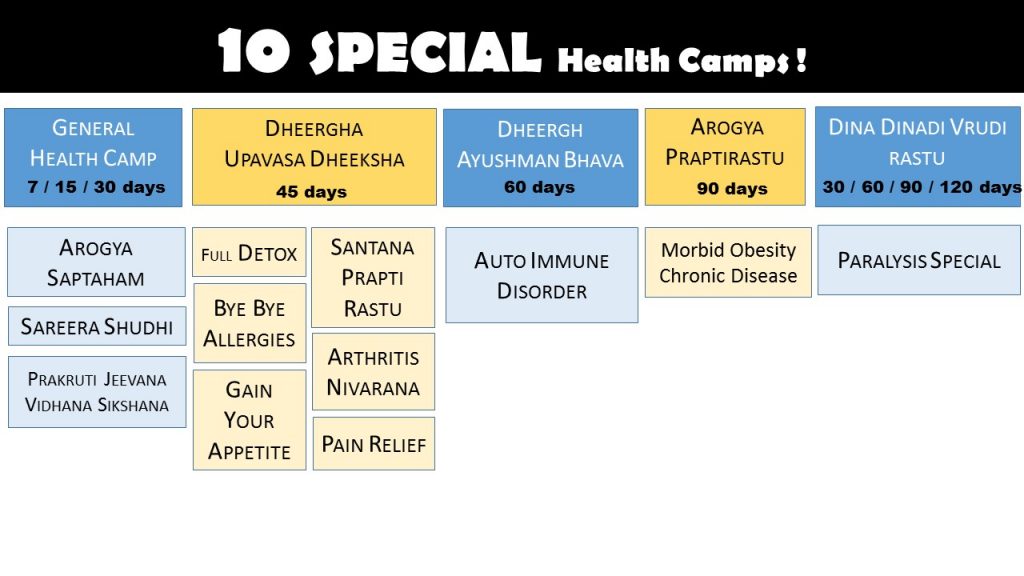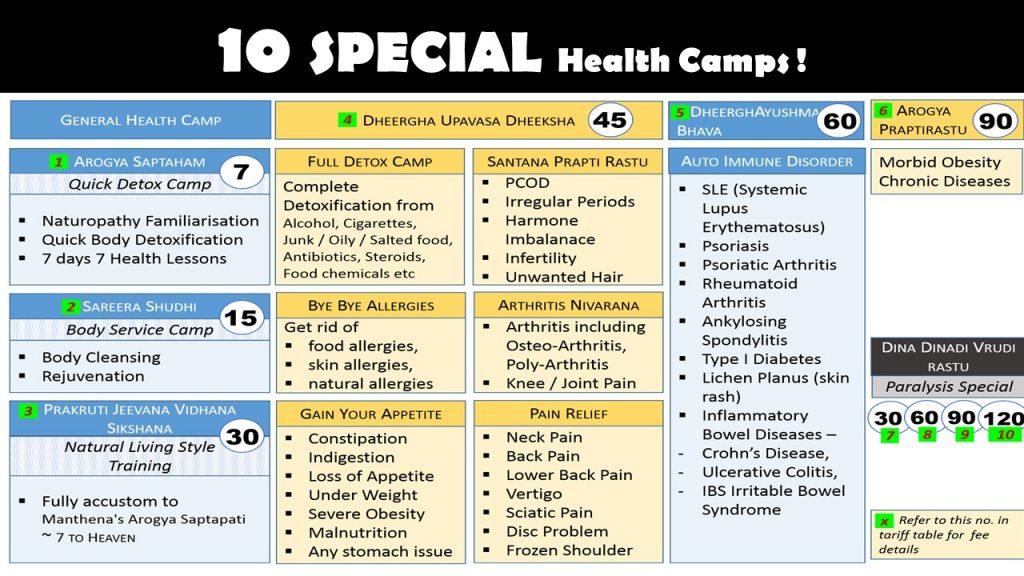 Stay at Arogyalayam, Learn & Practice a holistic "Natural Lifestyle", Get Health Benefits!
This Arogyalayam is the biggest Nature Cure Hospital in India (600 beds).
Nature Cure means, being healthy and curing ailments without any medicine, by leading a balanced lifestyle in line with Nature's principles.  The essence of Manthena's Naturopathic Lifestyle can be briefly summarized in "7 To Heaven", as below,
Our Residential Health Camp is a structured way for you to understand, train & practice this lifestyle & experience health benefits.
Treatment is DRUGLESS, through lifestyle modification and root cause rectification.  Hence, there is NO SIDE EFFECT.
In this approach, ONE SOLUTION can ADDRESS MULTIPLE AILMENTS.  For instance, when diabetes is treated in this manner, person gets cured from other existing diseases like high blood pressure, asthma, joint pains, constipation, cholesterol, PCOD, harmonal imbalance, etc also simultaneously.
OBESE people who have attended the camps have experienced about 7-10 kg (varies from person to person) of weight reduction in 30 days.  Also, they gain knowledge on how to sustain the benefits post discharge from here (choice of right food – balancing calories & nutritional value in a diet, what to avoid, what exercises to do etc.)
Over 30 days, many people who suffered with DIABETES have STOPPED taking insulin / tablets, started eating all fruits including Mangoes.  They gain the confidence and knowledge on how to stay away from diabetes for their life time.

Treatment Methodology
In Arogyalayam, a person's ailments are cured by a combination of,
♦  Therapeutic Diet & Fasting – Natural, Fresh Diet & Customised Salt-Oil Free recipes
♦  Naturopathy Treatments – Drugless, using Pancha Maha Boothas
♦  Healthy Lifestyle – Physical & Psychological Well-Being, using 7 Essential elements
Further, you can relax & rejuvenate with,
♦  Aqua treatments like water fall therapy, rain water therapy, swimming, pedal boating
♦  Outdoor games like badminton
♦  Serene walkpath, River view huts & Meditation sessions for stress-relief & relaxation
♦  Lectures & Training Sessions – Creating health awareness, Training on Yoga (includes 4 customised therapeutic yoga sessions), Training on Salt & Oil free cooking.
Click to know more about treatment methodology, daily routine
Arogyalayam offers 15/30 day Health Camps and a separate 1-week Training program.
15 days Health Camp:  A minimum duration of 15 days is strongly prescribed to personally experience health improvements.  Over 15 days, a person gradually adjusts to the environment, cleanses the body with fasting, experiences salt & oil free food while undergoing relevant Naturopathy Treatments.  Lectures & training sessions cover various topics in an orderly structured manner over 15 days, starting every 1st and 16th of a month.
30 days Health Camp:  Staying for 30 days or more is strongly prescribed for,
♦   People looking for significant health improvements (like stopping insulin or tablets etc)
♦   People with chronic ailments like arthritis, PCOD issues, infertility, gastrointestinal issues,
.    morbid obesity, diabetes, thyroid, psoriasis, asthma etc
♦   People without ailments, but pro-actively interested in adopting this lifestyle completely to
.    maintain good health.  Longer duration fasting helps in complete body cleansing.
.    30 hours+ lectures of Dr. Raju with Q&A sessions, creates immense awareness on health.
.    A person can get fully accustomed to various varieties of Salt & Oil free food.
Who can join & When?
People with any ailment can join and benefit from these camps.  Doctor consultation happens separately and hence addresses the individual needs of a person in full.  Click for list of ailments treated.
Prevention is better than cure.  Hence, people without any ailments can join a health camp to understand and maintain a more healthy life.
15 / 30 days Health Camp starts on 1st & 16th of every month.  People can join on any day, however, the sessions would be experienced in different order.  Click for Tariff details & booking.

Dr. Manthena's 7by7
Dr. Manthena's 7by7 – Detox & Yoga Program:  This is a 1-week program.  It is purely customized to meet the needs of people who are not able to stay for 15 days.  This provides only a basic induction & training into Yoga, Naturopathy and the Natural Lifestyle routine.  Individuals can experience initial health benefit of Detoxification & body cleansing.  In this program, person will have,
♦  7 different diet plans for 7 days, along with Naturopathy treatments & yoga training.
♦  Special group interaction sessions with Doctor, Yoga Instructor to complement the
.    regular sessions & lectures.
♦  The program is from Monday to Sunday. It is organised twice a month starting on the
.    1st Monday & 3rd Monday of every month.
For booking or enquiry call at 0863 – 2 333 888 or click here.
For any other details write to msrct.reception@gmail.com
Get Free Consultation available 6:30am – 8:30pm IST
Get Free phone consultation from our doctor on +91 9848021122 ( from 7 am to 9 pm)
Vijayawada Arogyalayam's
Amaravathi Karakatta Road, 3-185 Venkata Palem Post, Tulluru Mandal, Guntur District, Andhra Pradesh, India Pincode: 522 237