About Dr Raju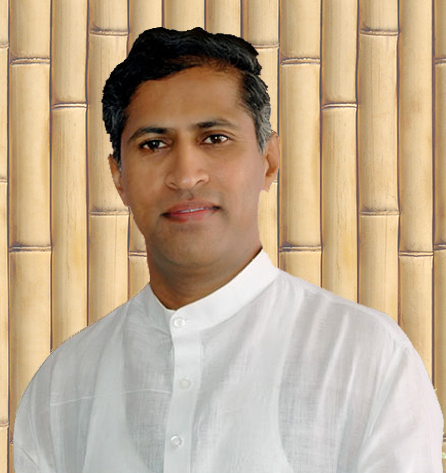 Dr. Manthena Satyanarayana Raju
Dr. Manthena Satyanarayana Raju was born to Sree Manthena Ramaraju and Smt. Manthena Lakshmamma on 23 rd April 1967. Dr. Raju's native village is Alaakaapuram of Pitlavaani paalem Mandal in Bapatla Taluq of Guntur District in Andhra Pradesh, India. As his parents were already into Naturopathy techniques and his family was following Natural Living Style even before his birth, Dr. Raju had very good food discipline with natural food from his childhood. It can therefore be assumed that Dr. Raju got habituated to living with Nature due to such upbringing.
Dr. Raju had his education up to Intermediate in his native place. He happened to be in Sree Chodey Apparao's Nature Cure Aasram for two months during the college vacation after his Intermediate examinations. He got well-habituated to the yogaasanas, saltless and oilless food and other disciplined food habits there. Thereafter when he joined B.Pharm course and went to other states, he continued to cook and have brown rice and boiled vegetables for curry, and continued with daily his yogaasanas.
Once he practiced such life for six months, he completely understood what "health" actually means. He got completely rid of his frequent health issues of phlegm, cold, cough, fever etc. due to the natural and heightened immunity. From then on his interest in Natural Living Style increased very much. Due to certain circumstances, when he took all kinds of routine foods in between with salt, oil etc., he found that his old health problems restarted and when he returned to the natural living regimen, they disappeared. This experience reinforced his belief in the enormous health benefits of natural living. He also observed that whenever he was sick, long term fasting cured him of the diseases without any external medicines.
Thus he used to experiment on his body itself by changing the food habits with different tastes and observing the results. Finally he concluded that Natural Living is the best for man to live healthily and happily. By studying the effects of medicines in his course, he understood in 4-5 years as to what is the good and bad that each medicine does to the body. Thereafter he studied with renewed interest the subjects of yoga and nature cure and got a deep understanding of these areas.
Then while working in Hyderabad in Sirius Pharmaceuticals, he followed Natural Living and started teaching those principles and yoga to his colleagues, thereby making them understand its greatness. One day he got injured in his leg due to an accident, and the rest that he was forced to take to recover from the injury became a turning point in his life. He gave up his idea of going abroad for higher studies and took it upon himself to propagate benefits of Natural Living as his goal of life, and he has since then been serving the people at large by making them adopt to techniques of Natural Living. He delved into the scientific secrets behind the rules and customs introduced by the Rishis and wise men of ancient times and passed on that knowledge to the present day public in his own unique ways. He started a grand mission of explaining the health secrets behind Natural Living Principles, adding his own experiences for support, by travelling from town to town since 1994. He gave free lectures in many districts without even adequate rest, with the sole aim of service to public and without expecting anything in return. For this purpose, he used to have an accompanying vehicle with carpets for seating of about 3,000 persons, mike and speaker set, generator set etc., along with some staff to arrange them at each venue. He ensured that there is no burden of expenditure to any organisers in any town by keeping the expenditure to the minimum, conducting it in a Spartan way, and even spent his own monies for many arrangements.

Dr. Raju gave video talks on Natural Living in Doordarshan channel between 2000-2008 and once in a while in the Sukheebhava programme of ETV too. He also gave such talks in 800 episodes under the programme title "Mee Aarogyam Mee Chaetullo" (Your Health in Your Hands). At the same time, he gave video talks for 360 episodes of 15-minute each under the title "Jeevana Rahasyaalu" (Secrets of Life). When Sree Lavanam handed over the Samsakaar Prakrithi Aasramam of Nizamabad District in 2009 to him, he increased its capacity from 25 beds to 100 beds and started maintaining the Aasram under his Nature Cure principles, which continues with repute till date. He toiled tirelessly in building the Vijayawada aasram "Aaroegyaalayam" since 2010, and continues to manage and improve it every day. Apart from managing and supervising the two aasrams, he is also now-a- days giving video talks in the daily half-an- hour programme from 6AM to 6.30 AM in Maa Gold channel under the title "365 Aaroegya Rahasyaalu" (365 Health secrets) and thus continues to be close to the public with his tireless services and dedicated campaigning. Describing how salt and oil in food spoil the health, he himself cooks various tasty dishes and propagates them through TV channels, DVDs, books etc. Without any profit motove, he wrote various books on different aspects of Healthy Natural Living, and is selling them for nominal prices. He also gives personal guidance on phone to those interested, for one hour every day.. Thus he has dedicated his daily routine to this cause without any rest or holidays.
Get Free Consultation
available 6:30am – 8:30pm IST
Get Free phone consultation from our doctor on +91 9848021122 ( from 7 am to 9 pm)
Vijayawada Arogyalayam's
Amaravathi Karakatta Road, 3-185 Venkata Palem Post, Tulluru Mandal, Guntur District, Andhra Pradesh, India Pincode: 522 237