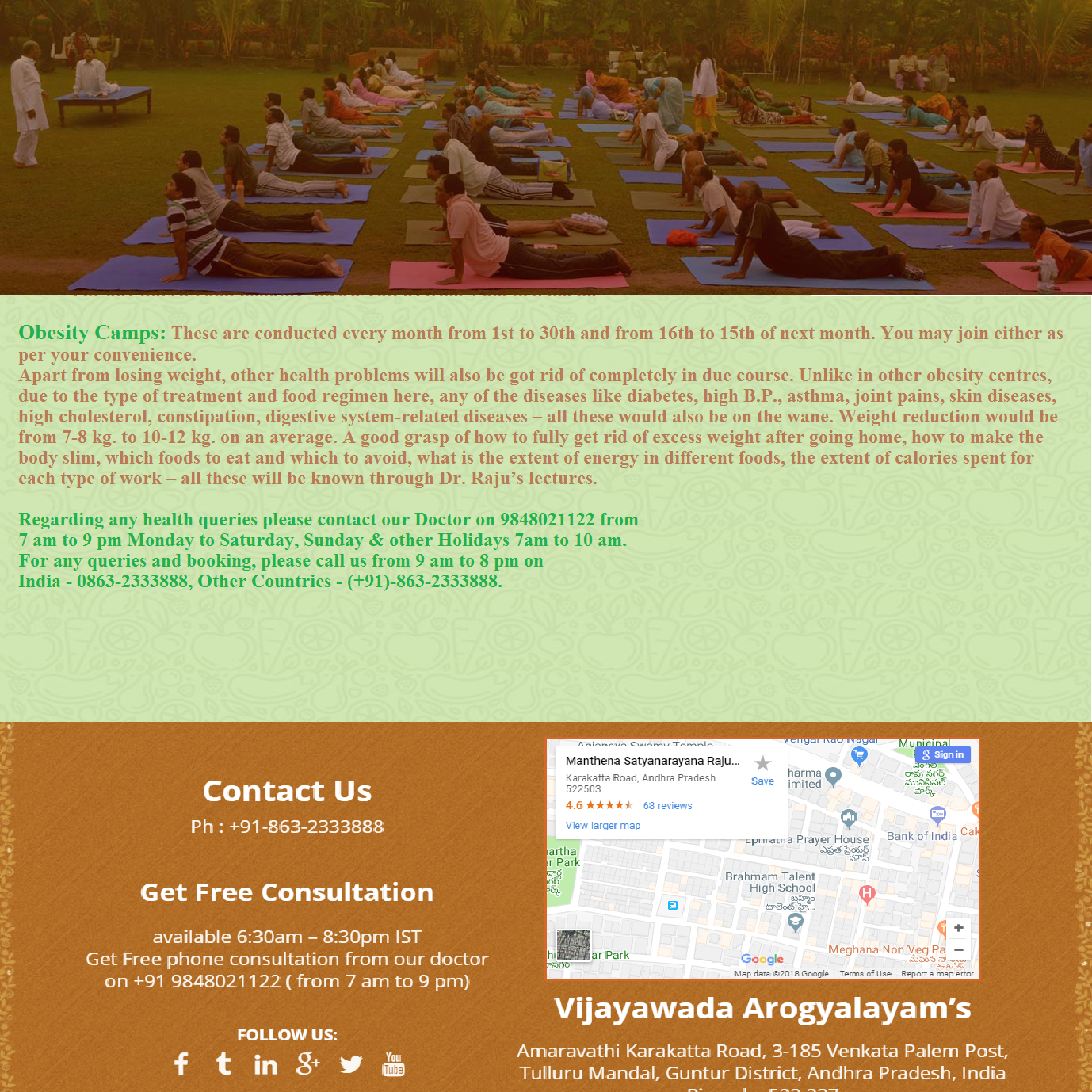 Obesity Camps
These are conducted every month from 1st to 30th and from 16th to 15th of next month. You may join either as per your convenience.
Apart from losing weight, other health problems will also be got rid of completely in due course. Unlike in other obesity centres, due to the type of treatment and food regimen here, any of the diseases like diabetes, high B.P., asthma, joint pains, skin diseases, high cholesterol, constipation, digestive system-related diseases — all these would also be on the wane. Weight reduction would be from 7-8 kg. to 10-12 kg. on an average. A good grasp of how to fully get rid of excess weight after going home, how to make the body slim, which foods to eat and which to avoid, what is the extent of energy in different foods, the extent of calories spent for each type of work — all these will be known through Dr. Raju's lectures.
Regarding any health queries please contact our Doctor on 9848021122 from 7 am to 9 pm Monday to Saturday, Sunday & other Holidays 7am to 10 am. For any queries and booking, please call us from 9 am to 8 pm on
India – 0863-2333888, Other Countries – (+91)-863-2333888.
Get Free Consultation available 6:30am – 8:30pm IST
Get Free phone consultation from our doctor on +91 9848021122 ( from 7 am to 9 pm)
Vijayawada Arogyalayam's
Amaravathi Karakatta Road, 3-185 Venkata Palem Post, Tulluru Mandal, Guntur District, Andhra Pradesh, India Pincode: 522 237